September 18, 2008
Oracle Magazine
contains technology strategy articles, sample code, tips, Oracle and partner news, how to articles for developers and DBAs, and more. Oracle (NASDAQ: ORCL) is the world's largest enterprise software company.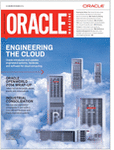 For more information about Oracle, please visit their Web site at
http://www.oracle.com
. Oracle is a registered trademark of Oracle Corporation and/or its affiliates. Other names may be trademarks of their respective owners.
Get yor free magazine
here
.