January 3, 2009
Authored by the engineers or scientists who did the work, the briefs span a wide array of fields, including electronics, physical sciences, materials, computer software, mechanics, machinery/automation, manufacturing/fabrication, mathematics/information sciences, and life sciences.
NASA Tech Briefs
also contains feature articles on successful NASA spinoffs, profiles of NASA tech transfer resources, news briefs, and application stories. Regular columns describe new patents, industry products, software, and literature.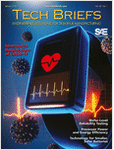 Get your free magazine
here
.